James Plutonium



Hair Color

Black

Eye Color

Dark Green

Gender

Male

Family

Likes

Evil, his daughters, causing chaos, hurting others

Dislikes

Professor Utonium, Blossom, Bubbles, Buttercup, Brick, Butch, Boomer, love, kindness, peace

Height

6'9

Weight

178

Occupation

Mad Scientist
Oppressor James Plutonium
is the creator and father of the Powerpunk Girls, he is the mirror counterpart of Professor Utonium.
Origin
Personality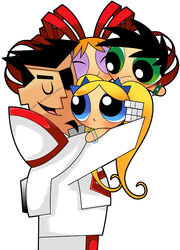 He is an evil father and does care deeply for his daughters. In his first appearance, not much is known about him, until he returns in Season 3. In
Oops, Clumsy Me!
, he was shown to be quite competitive. Another thing that was shown is, he was shown to be a bit of a klutz. In
Overconfident, Again and Again
, he was shown to be overconfident of destroying The PPGs (which changed to The Rowdyruff Boys), along with forcing his daughters to fight, when they were taking a break from illegal crimes. However, he has shown a sentitive side. Oppressor has shown to forgive his daughters from time to time when he thinks he fail them. Also, he does care about his daughters. In the episode,
Mirror, Mirror
, he took his daughters on a vacation to Viletown (which they weren't so happy at first). He later then gave them a magical mirror that if a person goes through it they can enter in through a town. This was a gift from him. It is shown he tries to have father/daughter days with his daughters. Oppressor also has Professor's sense of intelligence. However: Plutonium acts more like a mad scienctist. But Oppressor shares Profesor's creation of inventions. But he makes his inventions for pure evil. Also, he shares Professor's sense of humor. One difference between Professor and Oppressor is Oppressor Plutonium is more violent than Professor Utonium. Plutonium is overprotective of his daughters. He tries to be a better father to The Powerpunk Girls, and tries to be a normal father. He gets excitable when on vacation with his girls, and tries to do what a normal parent would do: Family Albums, spent time with his daughters, and have a sense of humor. His Girls do love him, and seems to look up to him as a true father. In upcoming episodes, he tries to impress girls, but at the end, turns very unsussessful.
Interactions with Other
Gallery