Kimiko



Gender

Female

Age

17-25 (Immortal)

Height

5'11

Weight

124

Hair Color

Midnight Black

Eye Color

Crystal Blue (Original) Ruby Red (Heylin Form)

Family

Chase Young (Husband), Toshiro Tohomiko (Father), Tomoko Tohomiko (Sister), Setsuna Tohomiko (Mother, Deceased)

Disabilities

Mute, Blindness

Occupation

Xiaolin Dragon of Fire and Xiaolin Dragon of Celestial
Kimiko Tohomiko
is one of the Xiaolin Monks and the Xiaolin Dragon of Fire and Dragon of Celestial. Along with the other warriors, she helps fight evil and collect Shen Gong Wu around the world. Her Wudai Weapon is the Arrow Sparrow and the Celestial Sword. Her signature Wu is the Star Hanabi and the Celestial Staff. She is extremely powerful pyrokinetic that can control and manipulate the element of fire at ease. She was a candidate for the Dragon of Fire since her accident when both her dormant powers were awakened. Despite being both blind and mute she is the strongest at the temple with a Grand Master ranking in all forms of Martial Arts and champion in other forms of fighting. Her hearing is at the highest level anyone could have possible be able to accomplish. She has multiple guardians that are responsible for keeping her safe and who were the original Guardians of Celestial. Her favorite guardian being Pyro a Phoenix-Dragon hybrid that is the same size as Dojo; whilst her main four Guardians that stay with at the Temple happened to belonged to her ancestor's such as Clow Reed the original creator of them and her great(something) grandmother Sakura Kinomoto.
Appearance
Her new look now consists of her hair always being put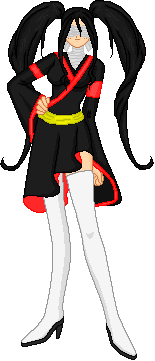 underneath a type of hat, and once down is as long as Blossom's hair. She wears bandages over her eyes concealed with sunglasses and her hair/hat. Her body is terribly scarred because of the accident and she always have her body covered. She usually wears all black and dark colors, mostly black and red. Her ears are pierced all the way around her entire ear. She also wears a black choker with a rainbow topaz gemstone shaped in a yin-yang symbol that Jack had made for her as a thank you and birthday gift. She also always wears fingerless gloves that come up to her shoulder blades. Her outer necklace is of the Celestial Crest decorated with different gemstones. She usually follows the Harujaku (street fashion) style in Japan. Her usual style of clothing is mostly Gothic Lolita or just other styles of Lolita. Besides a ponytail or bun, she wears her hair in pigtails. Once she had awakened from her coma, she had put all of her stress straight into drawings that are framed around her family's (multiple) mansions in Japan. She is also note worthy at being the creator and founder of the Aikatsu! Project (I.E. the Aikatsu! clothes and anything that pertrains to the series) she is the creator and designer for all of the clothes and has the original designs that she is seen wearing the most. Even if she is blind, all she has to do is imagine the design in her mind's eye and it later appears in real life just as how she imagines it.
Personality
Despite being a docile and rational person most of the time, befitting her element, she possesses a fiery temper. Often letting her pride and anger blur her better judgment, she sometimes took unnecessary risks to prove herself.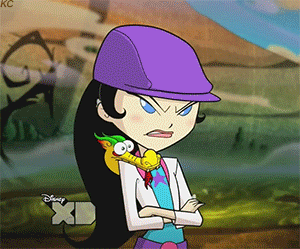 When she turns evil with the Yang Yo-Yo, she had bright red eyes. She had also shown to share a strong bond with her father. Docile, sarcastic, calm, quiet, kind, generous, forgiving, caring, loving, benevolent, even-tempered, curious, optimistic, and carefree. In battle she is a cynical person who will not hesitate killing the enemy without remorse; she can be downright cruel in both battle and at her own choice. Thanks her balance power, she has a very calm and tranquil aura that automatically relaxes people and calms them in ease. Her temper is legendary throughout the temple, and everyone is very careful as to not anger her. Her temper was later found out to have been inherited from her own mother, as her father stated that "She [Kimiko] is literally the embodiment of her's [your] mother's own temper." Whilst her older sister had apparantly inherited their father's calmness instead. She is also have been shown to be outright terrifying even to her Guardians when she is mad enough.
History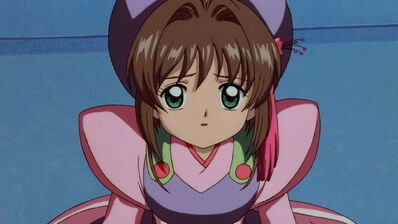 As the Dragons of Fire and Celestial she possesses both the spirits of fire and Celestial, making her a very dangerous opponent when fighting. She also has the control of balance within the entire universe, giving herself a peaceful and calm aura around her form. After Raimundo had turned to the Heylin side, she had decided to reveal her true self, both as the only known Dragon of Fire and Celestial, of course that had made Omi to become extremely jealous of her powers. When
Chase Young
had made his appearance, instead of attacking him with her element she engaged him in hand-to-hand combat and badly beaten him; which in turn made him become infatuated with her (or in love as he claims). She is not above killing people in order to obtain information; she has killed millions of people as an assassin in
S.H.E.D.
even though she detests it. Many people underestimate her because of her appearance; they had found out later on, that she can kill a person within nanoseconds. Before she kills a person with her powers, she will completely steal that person's power if they have one from them and proceeds to then kill them after getting information on what she wants. She can become very cruel and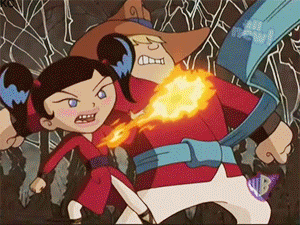 downright cynical when she gets angry enough. Even though she does not have a particular fighting style, she mostly uses different styles of martial arts. It also helps that several of her abilities can be used in hand-to-hand combat and combat in general. She cannot be fooled at all when the use of mind control and manipulation. And, not to mention she can sense an illusion with her eyes closed; her reputation of her past had made her a formidable foe to deal with in battle against corrupted beings. She has little to no tolerance for murderers and rapists; she also cannot stand it when someone kidnaps a child in order to use them for their own personal gain. Although there have been the rare times when innocent and naïve humans have been dragged into the fights, she is more lenient towards them and even teleports the innocent people involved at least 200 meters away from the fight. She had later picked a kind and loving family that wished desperately for another child, even though the wife couldn't have any more kids. She had perf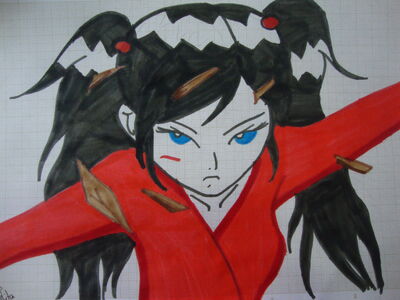 ormed a little bit of tampering around and voila! She was inserted into
Setsuna Tohomiko
's womb, and thus Kimiko Tohomiko was born. When a person using the Gem of True Seeing (created and owned by ChaosBetween) on her, the only thing that you would see in her place would be a big black splotch shaped like a human, and nothing more.  Even though she is blind and mute she was still chosen to be the Dragon of Fire. She possesses all her powers in her other forms. Her main ability that she uses the most is telepathy, and knowledge touch. Both Raimundo and Omi had always degraded her by her disabilities calling her a weak-link in the team. The only person she uses telepathy with is Clay, Master Fung, Dojo, and Jack Spicer. When she was three years old, she was involved in a fatal car accident with her mother being killed. Several deep pieces of glass were embedded within both her eyes and cutting deep within her throat. In which results in her becoming blind and a mute. The shards of glass had caused beyond repair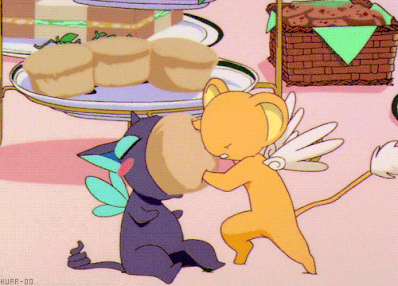 and destroyed her entire nerves inside of her eyes and severed her vocal cords completely. She knew the reason that Jack was a villain was because his parents had never paid attention to him and his own feelings of low-self-esteem. She had showed him that he can do anything if he just believed in himself. And, despite him being a villain he is one of her best friends. She is later revealed to be a direct descendent of both Clow Reed himself and the great Sakura Li (Kinomoto) the legendary Sorceress. She has unlimited amounts of pure magic running through her veins which is why she has all these different powers and abilities. She also inherited all four Guardians of Clow Reed and Sakura Li (Kinomoto), along with the Guardians of Celestial.
Powers & Abilities
Pyrokinesis: As the Dragon of Fire, she has the power to generate, control and/or absorb fire as well as manipulate it

Limited Lightning Generation: She is briefly seen using lightning to attack Muffin Face
Superhuman Strength: She is also super-humanly strong, capable of breaking through stones and steel with one single kick or her bare hands
Superhuman Speed: She can move and run at superhuman speed
Superhuman Reflexes: Her reflexes are at superhuman levels
Superhuman Agility: She has agility beyond that of a normal human being. She can dodge attacks, swing from things easily, do back-flips and numerous other gymnastic, athletic and martial movements with little effort
Superhuman Durability: She has proven to have a superhuman durability
Superhuman Equilibrium: She has shown the ability to achieve a state of perfect equilibrium when standing on a relatively giant leaf with one foot
Combustion Inducement: she can make anything in any given area combust into flames
Blue Fire Manipulation: she can create, shape and manipulate blue flames, which are far more hot and intense than ordinary orange fire. The blue flames are of such color due to either the intense temperature or it possesses mythical properties
Blue Fire Attacks: she can attack using blue fire at will
Blue Fire Ball Projection: she can project blue fire from hands at will
Blue Fire Breath: she can breath out blue fire from her mouth and nose
Blue Fire Constructs: she can create anything out of blue fire with ease
Blue Fire Generation: she can generate blue fire
Cosmic Fire Manipulation: she can manipulate cosmic flames that are given off from comets, meteors, asteroids, stars, planets, nebula's, quasars, suns, and solar winds. These mighty flames can burn in space without the need of the consumption of oxygen, and the intensity is so high, they can completely vaporize any matter without leaving byproducts such as ash.

She can select what she want to burn and what not to
Cosmic Fire Absorption: she can absorb the cosmic fire if it nearby or attacking her
Cosmic Fire Attacks: she can attack with the use of cosmic fire
Cosmic Fire Generation: she can generate cosmic fire if she has intense concentration and focus
Cosmo-Pyrokinetic Constructs: she can create anything out of the cosmic-fire that she generates at will
Cosmic Fire Mimicry: she can mimic cosmic fire
Dark Fire Manipulation: she can manipulate dark flames, both in nature and color; usually black, which is inextinguishable by normal means. The flames are also far more intense than normal flames, they can incinerate anything to the point of leaving absolutely no byproduct that not even ashes, and even smother and burn normal fire and water. Dark flames do not just burn, they can incinerate everything, even normal flames themselves
Dark Fire Attacks: she can use the dark fire in attacks against an enemy
Dark Fire Breath: she can breath dark fire from her mouth and nose
Dark Fire Constructs: she can create anything out the dark fire
Dark Fire Calling: she can call forth the spirits of the dead
Destruction: dark fire can usually be associated with absolute destruction
Pain Inducement: she can induce an unbearable amount of absolute pain onto a person or being at will from the dark fire
Reanimation: she reanimate corpses with the use of dark fire
Resurrection: she can resurrect people and entities with dark fire
Dark Fire Summoning: she can summon beings from hell/the dead with dark fire constructs
Ultimate Burning: she can burn anything into nothing with the use of dark fire
Umbra-Pyroportation: she can use the dark fire through teleportation
Esoteric Flame Manipulation: she can control over esoteric flames that have magical properties, and are able to use it for various purposes, such as enhancing their physique, healing, teleportation, etc...
Emotion Manipulation: she can manipulate emotions with ease
Supernatural Condition: she can achieve this with esoteric flames
Invulnerability: she is invulnerable to anything and everything
Magic: can use a high level amount of magic
Spell Casting: she can cast spells with esoteric fire
Esoteric Fire Absorption: she can absorb esoteric flames with ease
Summoning via magic flames: she can summon anything and everything
Pyromancy: she can use of esoteric flames in order to use magic
Pyrokinetic Creature Creation: she can create/manipulate and control creatures that she creates from esoteric flames
Explosive Fire Manipulation: she can create fire that explodes or turns anything that the fire burns into a ticking time bomb. Whatever the her flames come into contact with starts to burn then explodes in an incredible volatile manner
Fire Embodiment: she is literally the embodiment of fire with the spirit of fire reincarnated within her
Grand Flame Manipulation: she can create flames that can grant Semi-Immortality or be used for Mass-Resurrection. She can also generate extremely hot flames able to incinerate stone into dust. She can heal the wounded, the dying and those who have been put under evil spells
Green Fire Manipulation: she can create green flames more intense than blue fire. The flames are this color due to oxygen changes or because of myth. This fire is harder to control due to increased heat and intensity. In some unnatural uses, this fire can be ignited

under water. Despite this the fires can be used for Healing if the she wishes it to
Aquatic Adaptation: she can create fire underwater
Green Fire Attacks: she can use green fire in her attacks
Green Fire Constructs: she has the ability to create anything and everything out of green fire
Hell-Fire Manipulation: she can generate and manipulate the mystical flames of hell, which can completely destroy anything. The color of the flames varies, but may be black, blue, white, or the normal shades of fire, although probably in someway noticeably unusual. Sometimes, the flames are not generated, but instead summoned from the planes of hell itself. Hell-fire can cause excruciating pain upon contact instead or cause instant death, possibly even for relatively beneficial purposes, such as summoning spirits of the deceased temporarily back to the world of living from Hell. She can even use reanimation or resurrection via summoning the damned and/or demonic
Torment Inducement: she can induce frightening amounts of torment and agony with the use of the hell-fire
Soul Mutilation: she is able to mutilate people or entities souls with the use of the hell fire
Holy Fire Manipulation: she can create, shape and manipulate holy flames, which are especially effective against evil and demons and are inextinguishable by normal means. It may also trap and/or immobilize angels or demons, rather than killing them outright. The color of the flames varies, but usually blue

, white, or the normal if light shades of fire. Some flames can have different properties and abilities such as summoning spirits of the deceased back to the world of living. Since she is very strong and of a high level she has obtained and/or gained this ability of Resurrection via Summoning the deceased and/or Angels from Heaven
Psychic Flame Manipulation: she can create and manipulate psychic flames, allowing herself to burn away thoughts and minds and manifest psionic energy and constructs to cause damage to the mind that fire would to the body
Pyric-Spectrum Manipulation: she can manipulate different types of fire that can have different types of effects/properties. She can manipulate a special golden flame that can have healing effects
Rainbow Fire Manipulation: since she is so powerful, she also has the power over rainbow fire; the rarest, purest, if not the strongest form that allows her to create and manipulate beautiful multi-colored flames, and/or have the ability to control all the colors of flame separately. Normally just a aesthetic, if done through some supernatural source, rainbow fire may have varied supernatural properties not normally seen in regular fire, but exactly which effects it has, is hard to determine due to its rarity
Rainbow Fire Generation: she can generate rainbow fire with ease
Rainbow Fire Attacks: she can attack with the use of rainbow fire at will
Rainbow Fire Ball Projection: she can project a large ball of pure rainbow fire and hurl at the enemy
Rainbow Fire Stream Projection: she can project a large stream of pure rainbow fire and will it to either wrap around enemies or other constructs

Rainbow Fire Constructs: she can create anything out her rainbow fire with no difficulty
Color Manipulation: she can manipulate the colors of the fire itself
Spiritual Flame Manipulation: she can generate and manipulate spiritual flames, in order to burn down souls and make herself stronger with each soul she burns
Spiritual Weaponry: since she can control the spiritual flames at will, she can also create weapons out of it
White Fire Manipulation: she can generate and manipulate a white flame of higher heat and intensity that can incinerate objects in a matter of secons. This flame can also have magical properties when mixed with magic
White Fire Breath: she is able to breath white fire from both her mouth and nose
White Fire Constructs: she can create anything out of white fire
White Fireball Projection: she is able to project white fireballs at opponents
White Heat Vision: she can shoot white fire from her eyes
Ash Manipulation: she can control and manipulate ash
Chaos Manipulation: since fire is considered wild, chaotic element; which can explain her temper
Plasma Manipulation: she can manipulate the atoms in different ways
Fire Immunity: she is naturally is resistant to fire
'Thermal Res'istance: she can resist all temperatures
Heat Manipulation: she can control, generate and manipulate heat
Ice-Fire Manipulation: she can control and manipulate a mixture of both ice and fire
Molecular Acceleration: she can accelerate the molecules in an organism causing them explode from the inside out
Omnicombustion: she can make anything and anyone combust on the spot leaving nothing at all in its place
Smoke Manipulation: since smoke always follows the flame; can control and manipulate smoke
Soot Manipulation: she can control and manipulate soot
Fire Generation: she can automatically create fire
Quantity Manipulation: she can manipulate and control the amount and value of fire
Fire Absorption: she can absorb fire of any type and level
Electrical Resistance: she is completely resistant from electricity by super-heating the air, creating an Air Lens to block off the electricity
Fire Augmentation: she can enhance her powers of fire with ease
Fire Aura: she has a blazing aura thanks to her control over fire
Fire Empowerment: she can grow stronger when there is fire in or near the area
Fire Mimicry: she can mimic fire; usually with her temper making herself light up in flames
Fire Portal Creation: she can create portals using fire
Fire Transformation: she can transform with the use of fire
Fire Transmutation: she can transmutate into anything with the use of fire
Firestorm Creation: she can create an intense storm of pure fire
Inflammation: she can engulf anything, including herself in fire
Healing Fire: she can heal herself and others with fire
Pyrokinetic Combat: she can fight using her fire
Pyrokinetic Regeneration: she can regenerate herself with her fire
Pyroportation: she can teleport using fire
Burning: she can burn anything including non-flammable objects/items
Melting: she can melt anything
Heat Transferal: she can transfer her own heat into others and never lose heat whilst doing it
Ultimate Burning: she can burn anything completely into nothing
Incineration: she can incinerate anything and anybody into pure ash
Fire Attacks: she can attack with pure, hot fire
Flame Solidification: she can make flames into a solid state
Pyrokinetic Constructs: she can create weapons, walls, armor or allies/servants
Pyrokinetic Flight: she can project a flame from their bodies. She can project a huge amount of fire to increase speed, a small amount for simple levitation or propel themselves without taking flight at all
Pyrokinetic Surfing: she can controls the fire in a way that increases their ability to move and/or maneuver either by granting them abilities she otherwise lack or allowing them to ignore normally needed equipment
Master Martial Artist: Like all the other monks she became a Shoku warrior, capable of defeating several enemies at once
Master Hacker: She possesses great skills in computer hacking, capable of hacking several computer systems
Absolute Immortality: She can stop aging whenever she chooses, she can never get ill or die and any wounds that inflicted are automatically healed within nanoseconds
Weapon Creation: She can create weapons out anything
Astral Projection: She can go to sleep and will her soul to move around at freewill
Cosmic Awareness: She is aware of everything that is going on in the universe all at the same time.
Elemental Control/Manipulation: Has the power to control anything that is both natural and unnatural
Teleportation: Can transport anywhere at anytime with no limit
Absolute Traits: includes - Absolute 4th Wall Awareness, Absolute Absorption, Absolute Accuracy, Absolute Acquisition, Absolute Activation, Absolute Adaptation, Absolute Agility, Absolute Ammunition, Absolute Analysis, Absolute Animal Control, Absolute Archery, Absolute Archery Mastery, Absolute Armor, Absolute Assimilation, Absolute Athleticism, Absolute Attack, Absolute Augmentation, Absolute Balance Control, Absolute Balance Manipulation, Absolute Banishment, Absolute Barrier, Absolute Beauty, Absolute Blade Manipulation, Absolute Blade Mastery, Absolute Breath, Absolute Burning, Absolute Cancellation, Absolute Celestial Manipulation, Absolute Chakra, Absolute Chakram Skill, Absolute Charisma, Absolute Chi, Absolute Climbing, Absolute Cloaking, Absolute Cloning, Absolute Combat, Absolute Command, Absolute Compassion, Absolute Condition, Absolute Constant Velocity, Absolute Cooking, Absolute Cosmic Awareness, Absolute Creation, Absolute Dagger Skills, Absolute Darkness, Absolute Death, Absolute Defense, Absolute Destruction, Absolute Dexterity, Absolute Dowsing, Absolute Durability, Absolute Elemental Control, Absolute Elemental Manipulation, Absolute Elemental Resistance, Absolute Embodiment, Absolute Empathy, Absolute Endurance, Absolute Energy, Absolute Equilibrium, Absolute Evasion, Absolute Existence, Absolute Field Mastery, Absolute Fighting, Absolute Fighting Style Mastery, Absolute Flexibility, Absolute Force, Absolute Force Manipulation, Absolute Forging, Absolute Form, Absolute Hearing, Absolute Horsemanship, Absolute Illusion, Absolute Immortality, Absolute Intellect, Absolute Intuition, Absolute Investigation, Absolute Jump, Absolute Kindness, Absolute Kinesis, Absolute Learning, Absolute Life, Absolute Linking, Absolute Lock Manipulation, Absolute Lung Capacity, Absolute Magic, Absolute Manifestation, Absolute Manipulation, Absolute Marksmanship, Absolute Mastery, Absolute Mental Shield, Absolute Negation, Absolute Nullification, Absolute Offense, Absolute Perception, Absolute Permanence, Absolute Physical Shield, Absolute Power, Absolute Power Bestowal, Absolute Power Borrowing, Absolute Power Negation, Absolute Power Reflection, Absolute Precognition, Absolute Predication, Absolute Preparedness, Absolute Probability Manipulation, Absolute Reflexes, Absolute Regeneration, Absolute Replication, Absolute Resistance, Absolute Restoration, Absolute Sailmanship, Absolute Sealing, Absolute Shapeshifting, Absolute Shield Construction, Absolute Shield Penetration, Absolute Shielding, Absolute Sixth Sense, Absolute Sovereignty, Absolute Space Manipulation, Absolute Speed, Absolute Staff Proficiency, Absolute Stamina, Absolute Storage, Absolute Strength, Absolute String Manipulation, Absolute Suppression, Absolute Sword Mastery, Absolute Synesthesia, Absolute Technology, Absolute Telekinesis, Absolute Telepathy, Absolute Thievery, Absolute Time Control, Absolute Time Manipulation, Absolute Touch, Absolute Transmutation, Absolute Velocity, Absolute Vision, Absolute Void Sealing, Absolute Weapon Construction, Absolute Weapon Manipulation, Absolute Weapon Replication, Absolute Weapon Wielder, Absolute Will
Blood Control/Manipulation: the power to manipulate and control blood in any shape of forms
Form Change: power to change forms at will
Omnipotent: power over everything
Omnikinesis: power to control everything
Omniarch: power to rule everything
Omnilock: power to exist outside of reality
Photographic Memory: power to automatically memorize everything by sight, sound, smell, touch, and taste
Omni-Absorption: power to absorb everything and anything
Ability Creation: power to create any ability/power one wishes
Illusion Manipulation/Creation/Awareness: powers to be able to manipulate, control and be aware of any illusions
Omnilingualism: power to deciper and speak every language fluently including the extinct languages
Omni-Magic: power to have unlimited knowledge and use of magic
Omni-Immunity: power to be immune to everything/anything harmful
Nullification: ability to cancel out any and all abilities/powers
Creation Magic: as the descendent of both the Clow Mistress and Clow Reed himself she can create her own Clow/Star Cards with little to no ease at all
Clow/Star Cards: as the rightful heir of the Li Clan and a direct descendent of the form Clow Mistress Sakura, she can use and manipulate the cards as she pleases
Telepathy: the ability to read multiple people's thoughts and to communicate with people of her choice
Martial Arts Intuition: the ability to perform and know any and all martial arts in history with master expertise
Intuitive Aptitude: instantly learn and understand the complexity and exactness of organisms, objects, and even powers without the need of long-term or special education.
Combat Empowerment: strengthen the user's attributes by fighting
Intuitive Replication: copy the powers of others and intuitively know how to use them
Escape Intuition: wriggle out of any binds, break through any fetters, or otherwise escape captivity with ease
Hacking Intuition: possess intuitive in hacking machinery and technological systems
Medical Intuition: instantly understand the healing properties of subjects in one's environment
Danger Intuition: detect impending attacks
Divine Protection: create a protected aura/shield of pure divine/godly energy which protects the user or others against corruption or malevolent entities
Superior Adaptation: adapt to anything and quickly evolve
Complete Arsenal: possesses an endless number of abilities, covering every possible effect and countermeasure
Telekinesis: manipulate objects with one's own mind
Phasing: go through solid objects
Healing: automatically heals a person or another's injuries within a nano-second after it had been inflicted
Speed Combat: she is able to fight at incredible speed, striking their opponent in rapid succession that may even kill opponent's instantly
Reincarnation: the ability to be reborn once more
Resurrection: can bring themselves and others back to life
Appearance Alteration: rearrange the physiological features of oneself and others
Psychic Combat: fuse psychic energy into physical combat
Battlefield Adaptation: adapt to the conditions of a battleground, and grow stronger with each battle
Pathokinesis: she can sense and manipulate the emotions, including feelings, moods and their affects, of themselves, people, animals and other creatures, whether by increasing, decreasing, causing or otherwise channeling emotions, even manifesting the emotional energy to physical level
Magic: she has essentially have unlimited possibilities for how they use their power, with only their skill, personal power-level, imagination/knowledge, and/or morality to define the borders
Instant Knowledge: know everything and anything infinitely
Divine Weaponry: ability is able to create and wield any kind of weapon of godlike powers as well as making that weapon the only possible thing in the universe able of wounding them
Weapon Control/Creation/Manipulation: the ability to control/manipulate/create weapons for your own purpose
Precognition: She has the ability to see into the future through her dreams and through the use of her cards
Supernatural Sense: She is able to sense a supernatural being within her area
Exceptionally Good Luck: She has an incredible amount of good luck
Clow Magic: This type magic is only linked by Clow Reed's magic line; only the true descendents have ascess to its true power
Balance Magic: She draws her magic from the balance in the universe
Magic Detection: She can automatically detect magic
Spirit Detection: She can automatically detect spirits and ghosts
Elemental Magic: She can perform elemental magic with multiple types of elements
Elemental Control/Manipulation: She can control and manipulate the elements to whim
Dimensional Traveling: She is able to travel from dimension to dimension with ease
Dimensional Manipulation: She can control and manipulate dimensional energy around her
Dimensional Vision: She is able to see through dimensional barriers with no restraint
Dimensional Awareness: She is able to sense cross-dimensional portals and barriers within her proximity
Planeswalking: She is able to travel to other planes of existence
Inifinite Reincarnation: she is able to be reincarnated endlessly whenever she dies without any interference
Elemental Immunity: she is completely immune to any and all elements
Magic Immunity: she is completely immune to any and all magic based attacks and interference including both of Xiaolin and Heylin origin
Nonexistence: she is able to completely erase any and all things from existence no matter the capacity
Alternate Self Awareness: she is able to be aware of her alternate selves throught the space-time continuim and is able to fuse with a selected other self to know what is happening in that place; this was used when Omi had traveled to the past to stop Chase Young from turning to the Heylin Side. She was able to step into the body of one of her past lives at the time period and assist him
Past Life Knowledge: due to her ability of Absolute Reincarnation, she has access to all of her past and future selves knowledge, which includes her other selves in different timelines and dimensions
Meta Probablity Manipulation: she can manipulate all kinds of probabilities, of all nature and scale, increasing the possibilities exponentially
Complete Arsenal: she has the control every power, ability, and anything at all at her disposal at any given time
History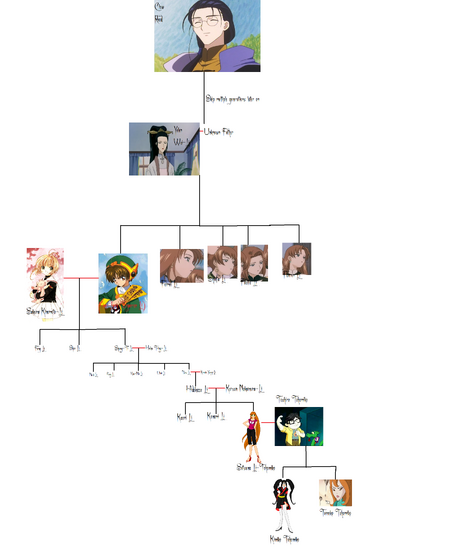 Her mother was born as Setsuna Li to Kersen and Hidekazu Li. Her family is the descendents of the Clow Mistress Sakura Li and Clow Reed himself. Her mother had met her father by accident by running into him whilst getting some coffee. Her bloodline has extremely powerful magic intertwined by both the Reed lineage and Li lineage. Her mother powers had focused mainly on the natural elements: fire, air, wind, earth, water, darkness, and light. She can also easily sense both supernatural beings and magic with no effort. Her ancestry is of mixed heritage of Japanese, Chinese, and other Asian roots. It all began with originally Clow Reed but became much more involved when Sakura Kinomoto had opened the mysterious book that was in her family's basement and had accidentally releases the magical Clow Cards. With her ability to open the seal in the first place, Sakura was revealed to have special powers, and it became her responsibility to retrieve all the missing cards. The task involved finding each card, battling its magical personification, and sealing it away. She was assisted by Cereberus (Keroberos, also known as Kero-chan), the
Beast of the Seal
assigned to protect the cards, who had been asleep when Sakura had opened the Clow Book (He was on a nap at that time, which lasted around 25,000 years). Kero, who was in his borrowed form, similar to a plush toy, throughout the majority of the captures, he guided Sakura as she developed her
Cardcaptor
powers. He presented her with the
Key of the Seal
, which allowed her to capture and seal away all of the escaped Clow Cards.
Relationships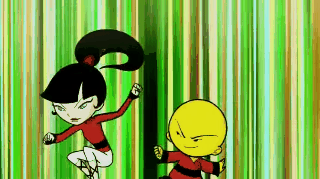 He is one of the monks at the temple. They were very friendly from day one. A trait about Omi that was shown to annoy Kimiko quite a bit was that he thinks that girls are not as good as boys, though this stems from his isolated life until meeting her. She has is warm and caring towards him (most of the time) as he is to her. They are usually paired together for double attacks or the Dragon X Kumei Formation possibly because they are both small. Omi enjoys Kimiko's hugs, whether it is because he has a crush on Kimiko or simply enjoys hugs from a female as he has never gotten them up until Kimiko had arrived at the temple is unknown. In her other forms, he had stated that her big chest was warm and soft; which of course caused her to slam him into the nearest object so hard that it breaks in half. He complains that her disabilities are form of weakness and only serves his true point on his view on women more on a domestic weakness and should only be allowed to clean and cook. That of which comments lands him in his bed for two weeks give or take the most.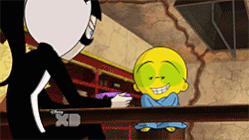 Besides Clay, she is closest to him. She has her own website where she always posts all of her and the teams adventures, along with video recordings of the battles. She and the gang instantly became internet superstars overnight because of it. And, of course no body knows of it; she had advertised on her site for the new apprentice job. Ping Pong had following her blog since she started it and looks up to her as his idol and hero. She looks at him as the little brother she never had before, he always seeks her approval of things and in turn she praises him highly for it. They have a very close-knit bond with each other. He doesn't seem to care of her disabilities at all; and will instantly defend her from anyone who insults her. He will also fight for her if she is unable to and knows of her true heritage and powers before coming to the temple from whispers of the heir to Celestial.
They rarely have altercations and seem to respect and understand each other. Later on, she had found his allegories/allusions extremely funny; since she does not have to pretend anymore. He is the only one of the Dragons that she actually talks to using telepathy; they both regard each other as siblings and are extremely close. He is very protective over her and is not overbearing.
He is another monk at the temple. Raimundo is a little over-confident and that would get on Kimiko's nerves. He proclaims her as a weakness to the team and should go back home; and describes her just a total waste of effort in training. Although he doesn't show it he considers her a friend, and sometimes without her knowledge of watching out for her.
Shadow
Currently it is unknown what their relationship was besides being Heylin and Xiaolin enemies. In the episode of Princess Kaila of the Thousand Layer Mountain, Shadow had stated that one day she and Kimiko will have a special relationship that she will be able to read Kimiko's mind. She also seemed interested about the idea of permanently controlling the cat monks after full moon, especially Kimiko.
Like Shadow their relationship remains unknown; although it has been throughout the fights, he seems to have great respect for her. He also is shown to have fallen in love with her, much to her chagrin. Since her disabilities were revealed to the enemies, her fighting style is much stronger and powerful than his even with her conditions.
He is one of her best friends despite being an enemy. She had managed to teach him that he is far from being worthless and that he could do anything if he just believes in himself. Sometimes whenever either of them are bored, they would send computer viruses to one another in order to help them strengthen their security. She is the only person that he can actually consider to be his best and only friend. One time when it was his birthday and his parents, forgot (again) she had asked her father to send him the latest computer electronics and supplies. She had even helped him start up his own company and helped him move out of his parent's basement and into his own home. They both consider each other siblings, and when it was her birthday he had made her a choker that can transform itself into any weapon with her thoughts. It also serves as a communicator/phone for her.
Known Guardians
Yue/Yukito Yukishiro (Main)
Ruby Moon/Nakuru Akizuki (Main)
Keroberos (Main)
Spinel Sun (Main)
Pyro
Selenity
Crystal
Adrianna
Lucinda
Piper
Wisteria
Salem
Quinn
Brenda
Mellissa
Hunter
Jodie
Sabina
Rochelle
Iola
Zachela
Vanessa
Faith
Ops
Daphne
Eclipse
Luna
Sol
Ophelia
Duncan
Thomas
Roger
Michelle
Amara
Trista
Serena
Amy
Raye
Lita
Mina
Hotaru
Keiko
Seiya
Taiki
Yaten
Mamoru
Artemis
Diana
And others
Gallery