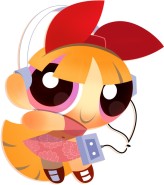 The 39th episode of the show and the 18 episode of the Season. Buttercup tries to ask Butch on a picnic with her, but Butch gets distracted by other things. Meanwhile Boomer & Bubbles is on a two date with Brick & Blossom being guest also dating, but Brick & Blossom keep arguing, much to Boomer & Bubbles annoyance.
Plot
The episode starts with Buttercup nervous to ask Butch on a picnic. Buttercup (talking to herself) feels totally confident she can.
Meanwhile, Boomer and Bubbles eat at a fish restruant where they serve the findest fish, ever cooked. As they are done ordering their food, Brick and Blossom come in and sit where Boomer and Bubbles are at. Bubbles and Boomer are annoy since their two siblings came where they sit. Blossom and Brick then talk about how each other look. When Brick says Blossom has beautiful "curly" hair, Blossom gets mad at Brick for what he said about "curly", which is drivving to them arguing. Which makes Boomer and Bubbles annoyed. then with Buttercup she still is nervous and doesnt know what to do. whaen she said i can do it she walks outside and surprisingly finds butch about to knock on her door.
With Bubbles and Boomer they secretly leave and go for a picnic.blossom and Brick notice and said
"Oh my god they left us!"
They finally agreed on something and said lets go for a picnic.
Soon Butch tells buttercup uhhh can you go to a picnic with me? she accepts and they all meet up at the park.